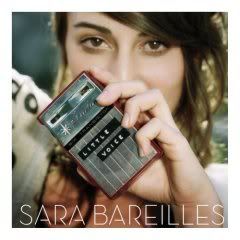 Have any of you ever heard of this young woman?
I confess that I never had until a few weeks ago, when Mrs Gunfighter brought home this CD that she bought on a whim. The song that you are listening to now, is the first song on her recently released cd, titled
Little Voice
.
Sara Barielles
(
pronounced Ba-rell-is
) is from Humboldt County, Californina and attended UCLA. Her music has been compared to that of Fiona Apple, Nora Jones and other female songstresses. Some of hose may be fair comparisons... but that in no way diminishes the talent of this young singer-songwriter.
I could go on and on about
Bareilles'
raw talent and driving piano-playing, but I don't have to, you can hear it for yourself.
If you are of a mind to trust me, trust me when I tell you that if you buy this cd you will be really glad you did.
GF