I have started this post five separate times since Monday, in vain attempts to strike some sort of chord. On this, my sixth attempt, I am going to do what I should have done in the first place… tell you about our weekend soccer tournament, focusing not on the odd cultural event that these things can be, but on what this one meant to Soccer Girl, and to the family as a whole.
Our Soccer Club only had one All-Star team in our division, despite the fact that various folks in the club office wanted to have at least two… tough shit, folks… Yours Truly is the League Director this season, and I don't want two or three all-star teams drawn from nine teams… I want the best team that we can field, drawn from the nine teams… not some primadona show, where some, more exalted coaches get to take their teams as a whole to the tournament. I know some clubs do that… but sue me for being something of an egalitarian. Our All Star team was drawn by picking two of the best players from each team… except for the two coaches that refused to participate if it wasn't going to be their way.
Well, f*** 'em!
(the coaches… not the kids)
This was a large tournament, with 433 teams competing in varying age groups, both boys and girls. The tournament was so large that the fields were spread out over three counties!
Our story starts on a cool, crisp, Saturday morning. I was decently rested, since I had the good sense to leave our happy hour gathering before the REAL fun started… We gathered all of our things, including the folding chairs,
Insta-Bench
, mittens, jackets, fleecey blankets, books, etc… and loaded them all into the trunk.
We were a little behind schedule, so we had to step on it, in order to get to the field on time. We arrived in time to find a last remaining parking spot… OK, so it was a handicapped spot… Don't call the SWAT team… I moved the car shortly thereafter.
Anyway, we found our team, and Coach Patty took over. The girls had their warm-up while the parents scouted out the fields, which were pretty cool. It's rare that the U-9 kids get to play on the artificial turf! I mean, these fields were
BE_YOU_TEE_FULL!
Soccer Girl and her chums played a good game of Soccer, but tied the first game. They tied their second game as well. After the second game, we had a few hours before the third game
(they were playing 4, 25 minute, mini-games
), so we went to lunch.
It really was a beautiful day. This late in November, we could have expected cooler temperatures and some amount of precipitation, but instead, it was cool, crisp, and sunny for the whole day.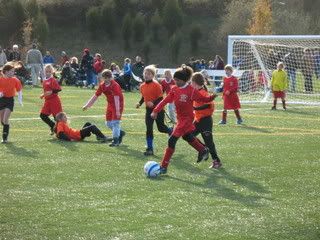 At the end of the day, Soccer Girl's team ended the day with three ties and a win. The teams were evenly matched for the most part, and the girls played hard and tough, without whining (except in the case of one or two). At the end of the day, we were in 5th place out of twelve teams, which was respectable, considering the short amount of time the girls had to practice together.
We went home with a happy but tired eight year old (who was really stinky after her day of athleticism). After SG was fed and watered (and thankfully bathed) she went off to sleep, while Mrs. GF and I talked about our day. Since we are still in the midst of
NaBloPoMo
, I got online, and began my post for the day, during which I apparently fell asleep at the computer for nearly two hours… finally posting something, and then going straight to bed.
Sunday morning broke bright and clear, and we were better organized for our day. Out first game was at 8:45, so we had to be at the field by 8:15... Which meant we had to be Johnny-on-he-spot getting up and out. You know what this means, don't you? It means that Gunfighter had to get up at 6:45.
6:45.
On.
Sunday.
Morning.
I wasn't amused.
We got to the field in plenty of time (ok, right on time), and got right down to business. This round of play was all do or die. We had the potential to play 3 games, but any losses meant elimination.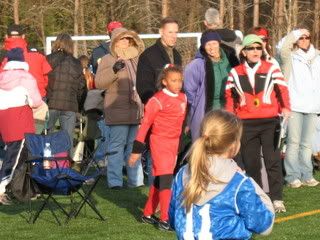 We handily won our first game, and the girls were on fire.
The second game was…. Different.
In the second game, we played the team that was the top seed of the whole tournament. To make a long story short, we got our asses handed to us. Badly. We got mauled. It was 5-0 at halftime. Coach Patty was organizing for the second half, while coach Gunfighter pumped up the girls on the bench. Some of the other dads were coaches, too, so we were able to stiffen the girls spine for the second half.
The second half was different from the first, in that our girls were physically and mentally tougher that they were at the start. Despite being tired, our girls battled back, and made the other team take notice. To be sure, we were outclassed, but at least we held them to two goals in the second half. When the final whistle blew, the girls were able to run off the field with their heads up, knowing that they gave it their all.
I was so proud of them. I was also proud of soccer girl. She was tough, strong, determined and brave.
The tournament ended for us, with our team finishing fourth out of twelve. As it turns out, the only team to beat us on the whole weekend was the team that won the tournament.
Not too shabby.
We had a fun weekend together. It was the thing that we like… concentrated family time.
Of course, the laundry is all piled up, ready for me to do on Wednesday
(today)
, because we didn't do it over the weekend.
Big fun.