By now, the blogging world has existed long enough that some of you may have actually spent in-the-flesh time with your blogosphere friends. For me, yesterday was the first such time.
I had the lovely experience of having met two of my many favorite bloggers, Janet, of
On DC Rush Hour
, and Suzanne of
Zanne ado
. Friends far and wide, I am here to tell you that nicer lunch companions can scarcely exist.
Janet lives here in Washington, DC and Suzanne was making a visit to the Virginia Theological Seminary, which isn't terribly far from where I live and work.
Here a picture of the three of us taken at the
Capitol City Brewing Company
, where I got to watch Janet and Suzanne eat what looked like fantastic fish and chips (I had already eaten lunch).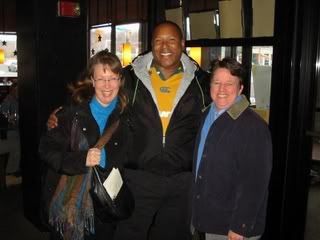 Pictured left to right are: Suzanne, Gunfighter, and Janet.
I tried my best to live up to my name, and arrive at our meeting place looking menacing, intimidating, and mean... by the time our lunch was over, it was clear that I had failed... all I had managed to pull off was
"adorable"
(yes, that was the word. I was
SO
embarrassed!).
I have every intention of meeting these lovely ladies again some day, and I look forward to meeting so many of the rest of you... as long as you don't show up with a chain saw, or a knife, pepper spray, and steel hammer.
Cheers,
GF