On December 26th, Susan went back to work. Olivia and I slept in.
I had the rest of the week off (having seniority is such a good thing!) so I could be at home with Olivia during winter break. We could have sent her to her baby sitter's house for those days, but to tell you the truth, I needed the time off.
As I mentioned, in
my previous post
, Olivia really liked the Museum of Natural History, so we planned to go back and spend some more time there.
We waited for the morning traffic (such as it was, the day after Christmas) to die down before driving into the city, and when we got there, we found a pretty decent parking spot, only about two blocks from the museum.
Once we got inside, I asked Olivia what she wanted to see first, and today it was the Mammal exhibit, which we only saw part of on the previous visit. Olivia particularly liked the following animal displays:
The Bear:
The Lion:
The Buffalo: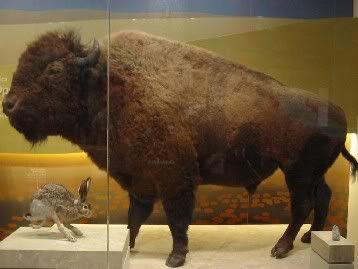 and The Dingo:
After the mammal exhibit, we went to the Sea Life exhibit and saw lots of neat sea creatures, including some pre-historic ones.
Next was lunch, which I was stupid enough to go to the museum's cafe for. Olivia and I both had turkey sandwiches on mini-baguettes, we shared a small container of potato salad, and shared a bottle of water. This tasty, but rather small meal, cost me twenty three freakin' dollars! My friends, I'm not a cheapskate, but
DAMN!
We had a seat next to a large picture window that looked out over the National Mall, and watched the people walk by as we ate. It was a nice interlude for us, and we talked about all the people that we saw as they passed... which made the twenty three dollar price tag worthwhile, when you get right down to it.
OK, lunch concluded, we went back to our museum tour. Olivia wanted to do the Insect Zoo next, but it turns out that the exhibit is closed for renovation (scheduled to re-open this summer). So, we decided to do rocks and minerals next.
The R & M exhibit was really cool, and we saw lots of common rocks, as well as precious metals and precious and semi-precious stones in their basic, elemental states. There were an amazing number of types of quarts on display, as well as lots of amethyst. We even saw the Hope diamond!, which Olivia really thought was cool.
We wandered around the museum for a total of about three hours, after which a certain eight-year-old was starting to poop out, so we headed for the exit (after a brief visit to the gift shop), walked to the car, and headed for home.
We had a good time, and before we got home, Olivia extracted a promise to return to the museum to see the Insect Zoo when it re-opens this summer.