(Roll of drums, clash of cymbals!)
My friends, I am pleased to announce the impending return of
"Shoot 'em Up Friday"!
That favorite feature which has been on hiatus for the last month or so, will soon return, in a new and improved format.
Let me ask you something: Do you have any CD's or old cassettes, albums, or even 8-track tapes that you
REALLY
hate?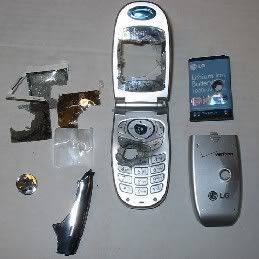 Do you hate your cel phone?
Have you ever been a bridesmaid and are still holding on to that really ghastly dress?
Do you have a pair of shoes that you thought were really cute, but they hurt your feet so badly that you haven't worn them since the first time?
Is there an appliance in your home that just doesn't work anymore, or really pisses you off?
Is your computer, or your monitor, just so old or useless that it makes you consider
"pulling an Elvis"?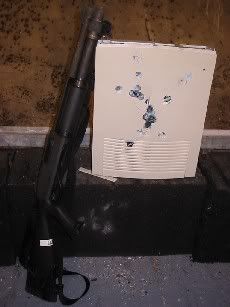 If you answered yes to any of those questions, pay attention, because this might be of interest to you.
I don't believe those hated or non-working items should take up anymore space in your home. Further, I don't think that they are quite ready for the landfill just yet, either.
What I think you should do with them, is send them to me! That's right. Send them to me!
I want your hated and despised items!
You send me that bridesmaid dress, and I will blast it to shreds for you... as a matter of fact, depending on how you feel about it, I'll even send it back to you. Have a CD you hate? I'll shoot that, too!
When you send something for destruction, include the history of the item, or why you want it shot up. I'll post it along with the photos.
Any items sent, will be shot, by yours truly, and the photographs, both before and after, will be posted on the following Friday. Now tell, me, what other blog will provide you with that sort of gratification for the price of postge?
As things progress, meaning: when I can figure out my cool new video camera, there may even be video recordings for your destructive amusement.
Contact me via email for shipping instructions.
GF
ADDENDUM:
Two things:
First:
This Idea was totally Mrs Gunfighter's (I told you she was smart... and sexy, but that's another story)
Second:
If you send CD's, I will not only shoot them, but I will post their destruction with audio either from the CD itself, or the favorite song of the person who sent it, at their discretion.