They are evil, and they must be destroyed.
Crocs!
No, I'm not talking about those interesting (and dangerous animals that the sadly departed Steve Irwin fancied so much. Not at all. I am talking about those ghastly plastic shoes.
You know the ones I mean..., these little monsters!
You've seen these shoes, haven't you? I seriously doubt if anyone has failed to notice that these horrid plastic things, like cockroaches and politicians in Washington, are everywhere.
No, I mean it... look around, especially in the summer, Crocs are eating away at the fringes of our national obsession with flip-flops.
Kids wear them...
Moms in suburbia wear them...
Some guys even wear them...
... and although I suspect that the guys in this crew don't get a lot of dates, it just goes to show you that there are some people who really love these shoes.
Mrs G? If you had shown up at our wedding wearing those.... well, it would have been bad.... but I digress.
Crocs really
are
everywhere these days. As a matter of fact, pictures of these awful shoes appeared in the
Washington Post
newspaper twice this week.
The American Librarians Association met in Washington over the weekend, and while that may not mean much to many of you, it was certainly a great thing for me, because it brought my dear friend Janet back to town for a few days (and being busy kept us from getting together until we had coffee Monday morning, a few hours before her flight back to Michigan!). The convention has another unintended consequence, it brought
THIS
picture to my front doorstep, on Saturday morning!
This lady, a librarian, was doing the red-carpet stroll for the opening of a film that she was able to produce. A film about librarians!
Now, you all know that Gunfighter loves books. I love chicks who read (I married one). I love the fact that my daughters are readers. I love librarians... especially Mrs Jefferson, the children's librarian at the library on the street that I lived on when I was a kid.... but this goes too far! Crocs with an evening gown?
Now look, I'm all about comfort, but isn't this a little much?
And it gets worse, my friends... much, much, much worse.
This photograph was also in the Post in the last few days.
The President of The United States... such as he is... wears Crocs. He wears crocs with black socks, no less.
I weep for the future.
Crocs come in all sorts of shapes and colors...
Some people have gone as far as getting creative and personalizing their crocs...
There has even been attempts to make crocs more manly (as if) by doing a knock-off of the LL Bean Maine Duck Hunting Boot... seen here:
and here:
Is there no end to his insanity? In the truest American tradition of imitation, especially where it will make some extra bucks, there are Crocs knock-off every where these days... even Skechers is getting into the act with these:
Don't get sucked in, my friends! Rid yourselves of evil crocs.
If you have some already, send them to me, and I'll take a shotgun too them. It's for your own good!
"Real" Crocodiles are much more fun!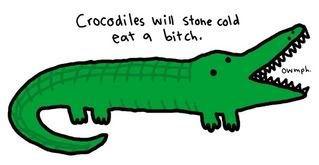 Peace!
GF