I have told you before that I was practically raised by a television... I think it is time to tell you what I meant by that.
My parents were divorced when I was 5... we moved from California to New Jersey in the summer of 1969, which is the same year that I entered kindergarten.
When I was a kid, when we got home from school (I had to walk home with my older brother) it was TV time! I had a few hours of TV time, mostly to myself, since mom was working and wouldn't be home until after 5.
We were, what later became known as, latch-key kids... but this post isn't about working moms, stay-at-home-moms, or the perils of single parenting. It's about advertising.
Advertising.
If you lived in the New York, New Jersey, Connecticut, Tri-State area in the late 1970's to the mid 1980's you will immediately recognize this commercial.
If you didn't live in this area, or aren't old enough to remember, please believe me when I tell you that this is the pinnacle of a brilliant ad campaign.
"Crazy Eddie"
was a retail electronics chain that had stores throughout the tri-state area, and was know for it's low prices. It was even better known for it's frenetic radio and television advertising, mostly done by this man: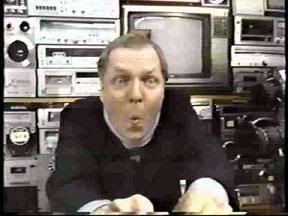 His name is
Jerry Carroll
, the radio DJ who became the voice and face of "Crazy Eddie"
From around 1979 until 1985, you couldn't avoid seeing the wild
"Crazy Eddie"
commercials on television, and the Ad Campaign alone has reached cult status.
Mrs. G can support my claim to how deeply this advertising touched yours truly, as I have been singing this commercial jingle, and waxing poetic about all of these commercials since we met in 1992.
The
"Crazy Eddie"
chain went down the tubes in the middle or late 80's because of large scale fraud. Sam and Eddie Antar, were eventually convicted of fraud and sentenced to prison.
As of this writing, Sam Antar is considering reviving the chain of stores.
I, for one, can't wait.
GF