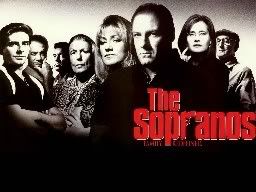 Play the music!
Have I mentioned that I have never seen this show?
Well, until last week, I hadn't. Having seen only part of one episode, the final episode, I feel well-qualified to give you my thoughts on how the show ended.
My new blog pal
Biker Chick Janet
(by the way, that's your new nick name, my friend, you are one of three Janet's here), mentioned the Soprano's finale with a well-written post that you can find at
her blog
. Janet posits that the ending of the show shouldn't have surprised anyone who has been watching the show all along.
Longtime philosophical brother-from-another-mother, and fellow blogger,
The Thinking Black man
had
THIS
to say about how the show ended... and I have to tell you that I almost fell out of my chair until I got nearly to the middle of his post!
**NOTE TO TTBM: Don't do that again, dude, you nearly killed me**
Well, let's get right to it, shall we?
Having watched the ending of the show, I felt that justice was done. No, not the kind of justice that would land Tony Soprano and his entire crew behind bars for the rest of their lives, although that would have been a great ending for me (oh, don't scowl... I'm a cop, the bad guys SHOULD go to jail), but I digress. No, I don't mean legal justice. Nor do I mean street justice, wherein Mr Soprano would be murdered, or
"whacked"
in the vernacular of the state of my youth (hey, Tony and family lived in the next county over from me!). What I mean is that I believe that justice was done in the way the show ended.
Alright, I can practically hear some of you swearing as you read this. Some of you may be saying things like:
"Well, what can you expect from an unbeliever"
(BIG bonus for the person that can cite THAT movie reference!), or
"GF wasn't a fan, what does he know?"
Patience one and all, and I will share my thoughts with you.
You see, Tony Soprano was a brutal man. A barbarian that tended to settle things with threats, intimidation, and brute force. He would prevaricate when it suited him, he would even have other men, in his employ, conduct his violent business for him. Tony Soprano was a murderer, and nothing good ever comes from that.
For the last several years, faithful fans clung to this highly rated and much ballyhooed show, just wondering what Tony and company would do next, and for many years they were rewarded for their patience. I suppose, in their hearts, they just felt that they were owed a little closure in return for years of loyalty. The fans just wanted to know how Tony was going to end up. The blogosphere was abuzz, as were no small number of bulletin boards, talk shows, happy hour groups, and chat-rooms. What's going to happen next?, they all wanted to know.
Well, as all of you (who care) already know, by now, is that the final scene of the series took place in a Diner (shot on location in Bloomfield, New Jersey).
Journey's
"Don't Stop Believin'"
was blaring from the juke box, and a sort of nervous-looking chap was sitting at the counter... frequently looking over his shoulder at Tony's table or at the door. While this was happening, daughter Meadow Soprano was outside, trying to park her car... all of this was happening as the song rose to it's crescendo... The nervous guy at the counter goes into the men's room... is he going to pee?, or is he going to come out of there, guns blazing? (we'll find out in seconds), Meadow finally parks the friggin' car, and walks towards the Diner... Nervous guy zips his fly and is exiting the men's room, just as Meadow gets to the door... We hear the bell on the door of the diner ring, and Tony looks up and...
Fade
To
Black
And now most of the people in the TV watching world are seriously pissed off.
What happened?, they wanted to know... did nervous guy whack the whole family? Did Meadow whack the whole family? Did nothing happen, and Tony and AJ got their onion rings ("best in the state" says Tony)?
I'll tell you what I think happened in the ephemeral mists of speculation (did you see that big word I just used?, and I didn't even go to college!). I think Tony and company continued to live their lives in the ways they always had. Doing evil things to make a buck... or lots of bucks. I think that Tony never gets out of the life. I think the final scene shows that nothing changes for people like that. There is no change of heart, no redemption, no "turning from a life of crime", no fairy tale ending, and no closure.
Tony Soprano was an evil barbarian warlord... people like that never have a happy ending. They just have an ending.