Some of you may have listened, a week or so ago, when I was a guest on
Kristen Chase's
Motherhood Uncensored
radio show
(and if you didn't listen, click that button over there, to your right)
.
That particular show was a discussion about
"What Dad's Want"
. Kristen asked me about Father's Day, and whether dad's got excited about receiving gifts. I told her that although most dad's will say that
"it isn't about presents"
and things like that... we are usually lying through our collective teeth.
I love getting presents.
No. Really.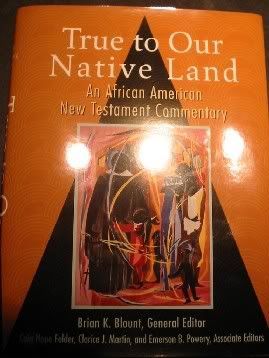 I love getting presents, and for this Father's Day, Mrs Gunfighter and Olivia gave me two great books:
The first was this book:
True To Our Native Land, An African American New Testament Commentary
.
Mrs G always knows which books to get for me, as I am always trying to discern new things about national culture, ethnic culture, and their interactions with various faith cultures and traditions, particularly in the United States.
The next is titled:
"The Peoples Work, A Social History of The Liturgy"
A recent interest, as part of my faith journey, has been an exploration of the history of the church, and one of the most interesting things for me, is the development of the various liturgies used in today's mainline denominations.
I am excited about both of these, and they have joined my rather long list of
"to read"
books. I suspect they might be on my vacation reading list... along with the new
Harry Turtledove
novel that we are expecting in late July.
Mrs G. is a good egg.
Thanks, babe.