...and good riddance.
Perhaps you think that is a bit harsh. Perhaps you think I shouldn't speak ill of the dead... well maybe you are right... then again, I'm not speaking ill of the man since what follows is the unvarnished truth.
If you are a "big C" Conservative, hold on, because you might find this somewhat distressing.
Jerry Falwell was an icon to many. He started the
Thomas Road Baptist Church
in Lynchburg, Virginia in an old bottling plant in 1956, and built the church to where it is today: a megachurch with 22,000 members*. He also founded
Liberty University
, a fundamentalist, right-wing, Baptist college.
Falwell spent his entire career as a man determined to preach the gospel. Which he did, apparently compellingly, considering the fast growth of his church.
In 1973, Falwell co-founded the Moral Majority, a right-wing political organization made up of conservative political action committees, which had, as it's primary goal, to lobby and campaign on behalf of Republican candidates and issues.
Falwell frequently described himself as not being
"...a republican or a Democrat. I'm a noisy Baptist"
, which is a load of crap, since Falwell and his organizations spent all of their political effort on the most conservative Republican issues and candidates that it could dredge up from the sewers.
Jerry Falwell was probably a nice man. Indeed I would bet on his being mannerly, friendly, giving, generous and a host of other warm and fuzzy adjectives. I am sure that his family and friends loved him a great deal.
Here are a few other words that could accurately describe Mr. Falwell:
Racist
In 1958, Mr Falwell, discussing the 1954 Supreme Court decision,
Brown v. The Board of Education
, said:
If Chief Justice Warren and his associates had known God's word and had desired to do the Lord's will, I am quite confident that the 1954 decision [Brown v. Board of Education] would never have been made…. The facilities should be separate. When God has drawn a line of distinction, we should not attempt to cross that line."
(Good thing Jerry never came to my house for dinner, eh?)
Falwell frequently hosted staunch segregationists like
Lester "Axe Handle" Maddox
, and
George Wallace
on his
"Old Time Gospel Hour"
evangelism show. I guess Reverend Falwell believed that God is a segregationist. I wish I could laugh at that, but, it isn't really funny.
Let's see... what other words could be used to describe Jerry Falwell? Oh!, Here's one:
Liar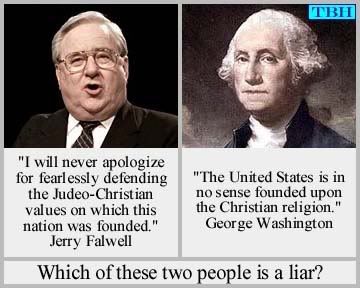 'Nuff said?
Hmm. Other good words might be...
Homophobe, Lunatic, and Misogynist
Check this out. On September 13th, 2001, while a guest on Pat Robertson's televangelist program, Falwell said the following:
"The enemies of America give us probably what we deserve... When we destroy 40 million little innocent babies, we make God mad. I really believe that the pagans and the abortionists, and the feminists, and the gays and the lesbians who are actively trying to make that an alternative lifestyle, the ACLU, People For the American Way -- all of them who have tried to secularize America -- I point the finger in their face and say, 'you helped this happen.'"
So you see? The 9/11 terrorists actually attacked our country because of you damned, and I mean damned, gay people... and you feminists... and you liberals! Wow, to think of it... nearly all of the regular readers of my blog are at fault for the 9/11 attacks... and you aren't locked up at Gitmo yet! Well, be patient, I know people, and we're comin' to
get
you!
Poor deluded, irrational, historically ignorant, Jerry... he even hates the notion that our society is improved by universal public education. In his book, titled
"America Can Be Saved"
, Falwell, speaking about our educational system, said:
"I hope I live to see the day when, as in the early days of our country, we won't have any public schools. The churches will have taken them over again and Christians will be running them."
Um... Jerry? You have a daughter who is a Surgeon... in the early days of our country, the schools, almost none of which, by the way, were run by churches, wouldn't have let your daughter learn to read!
So, you see, my friends, I shall not mourn the passing of Mr Falwell. While I wish the best for his family, I have to be clearly on record here, by saying that I believe that my country is much better off, every time someone of Mr Falwell's particular bent, dies.
Good riddance to bad rubbish.
GF