It was 0910, yesterday morning. I was on my way to a meeting in Washington, DC, and I only had 20 minutes to get there.
I left my office, and proceeded to the express lanes of I-395 and made great use of the
Interceptor
engine in my
Crown Victoria
.
By 0915 I was cresting the ridge, in Arlington, Virginia that gives you the first view of Washington, DC (and that annoying new Air Force memorial), I usually love that first view of the city, but today?... not so much. I don't love it so much today, because I am cutting it a bit close to get there on time. It isn't as if I had anything to add at the meeting, I hate meetings with a passion, but I hate being late for things.
As I was about to cross the 14th street bridge, into DC, I noticed a red Honda sports car pulling onto the median (This was right between the pentagon and the Crystal City Marriott Residence Inn).
"Shit!", I said aloud, as I turned on my emergency lights, crossed two lanes of traffic and pulled over to render assistance. I really wasn't in the mood to to play roadside assistance guy, but, I'm a helper... that's just how I roll.
By the time I pulled over and backed up, the driver, a young woman of about thirty, exited the car and began running to me. I hopped out and asked what the problem was: She said to me (with a Zsa Zsa Gabor accent)
"My car, my car! Oh the noise it makes! Here are my keys police-man. Listen to the noise!"
I gave her the keys back and she told me the she had had the same problem once before.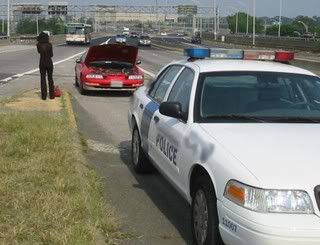 Not knowing much about cars, I told her she needed to call a tow truck, but if she couldn't, I could call one for her. She used my phone to call for a tow truck
(and to call her office to say she wouldn't be in today, and to call her mother to tell her what had happened)
. In between phone calls she asked me how old I am and told me that I am the first black police officer she had ever met (turns out she is Romanian).
Great.
I figured that this would be a good time for me to mosey away from her while she finished securing the pick-up of her car, so I took out my old digital camera, which I keep for times like this, when I think:
"Hey! This would good for my blog!"
, and snapped a few pictures. By the way, the building that you can see in the distance, beyond her car, is the Navy Annex... on 9/11, the Pentagon plane flew very close to the rooftop of that building. At that time, one of Soccergirl's Godparents was working there, she said that it was VERY,
VERY
loud.
OK, Zsa Zsa finally gets the tow truck arranged, so I gave her some safety advice and excused myself as quickly as I could and left her to wait... but not before she tried to give me her business card.
I missed the meeting.
Here are a couple of different views from where I was standing while assisting this young woman:
This is the Pentagon, where I used to work
(I am so glad that I no longer work for the Department of Defense)
... for all of you conspiracy crackpots out there, the Israeli missile crashed into the building from your left, a wall you can't see from my vantage point in this photo.
Have any of you ever taken the Pentagon tour? If you ever get the chance, you should do it... even if it is just because the tour guide does the whole thing while walking backwards.
In this photo, you have a government office building ( I think it belongs to DOJ) on your left, in the center you see Macy's, which is one of the anchor stores of
Pentagon City
mall, beyond the mall you see innocuous high rises.
...and no, I didn't take her card.