Dear Gentle woodland folk of the blogosphere,
Today is Friday, and you know that Friday is special. Friday here, at
The View From Here
, is not dissimilar from Wednesday in the North End of Boston
(oh, somebody hit me with the reference... I will love you for it!)
. It is a day of regularly scheduled activity, that some of you have been waiting for.
That's right, kids. It's
Shoot 'Em Up Friday!
Today is the day that I would normally shoot something to bits, and then teach you a little about guns/ammunition.
But not today...
Nope.
Uh-uh.
I'm not even going to pretend that what I am showing you today has any sort of practicality. There is no lesson on ballistics. There are no teaching points about tactics or the proper use of available cover.
This post about my
love
hatred of
Crocs
.
I hate Crocs.
I hate imitation Crocs.
I think they are ghastly.
As I said in my previous
anti-Crocs post
, a few weeks ago, Crocs are evil and they must be destroyed... well, dear friends, today is the day to do just that.
Behold: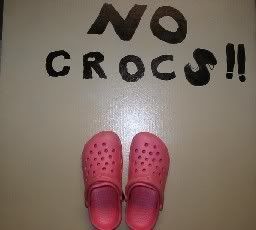 What you see here are a pair of imitation Crocs... Imitation Crocs that used used to belong to a certain soccer-playing child that has since grown out of them.
As much as these shoes deserve their trip to the garbage can, they aren't quite ready yet... so, I have glued them to a neatly painted, and not-so-neatly lettered cardboard target backing. Just think of it as a very large greeting card from me, to all of you!
As you are all aware, I am rather fond of shotguns. When it comes to blowing holes in people or things, shotguns can hardly be beaten at gunfight ranges. However, despite my love of shotguns, I thought that I would change things up a bit, and just use my pistol.
So, after hanging up our lovely greeting card, I set myself (and my pistol) to the task of making holes in the aforementioned horribly ugly shoes.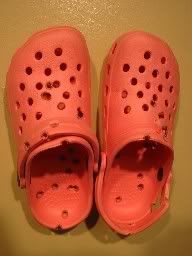 I decided that four magazines worth of .357 rounds ought to do quite nicely, so I loaded my pistol and began putting (additional) holes in the shoes... and feeling rather good about it.
**REMINDER** a magazine for the type of pistol that I was using holds twelve rounds.
When I had finished shooting, the shoes looked like what you see here at the left.
I was somewhat disappointed that they didn't look terribly worse for the wear, so rather than loading another four magazines, I did what any prudent gunfighter would do when his/her pistol is getting the job done. At this point someone will almost certainly ask:
"Gee, Gunfighter, what WOULD a prudent gunfighter do when his pistol doesn't seem to be doing the expected job?"
The answer is:
"Go get a shotgun!"
Which is precisely what I did!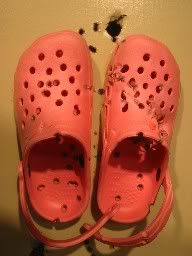 I loaded comrade
Remington
with 5 rounds of buckshot, and went to work.
Here are your results...
This is a little more like it!
I think that these Crocs won't be bothering anyone else.
As I said, gentle readers, I wanted to give you a lovely greeting card, to not only thank you for reading my blog, but also for taking the time to indulge me in my Croc-Bashing.
Have a good weekend!