It's been a long time, hasn't it?
Well, your patience is greatly appreciated and your wait is at an end. Read on, O devoted reader!
What you see here is a standard Ice Cream maker, neatly boxed in it's original packaging. I received this particular appliance from my dear friend Janet O, who had no further use for it!
Janet, knowing my penchant for shooting things to pieces
(all in the name of professional education, don't you know)
decided that she wanted me to have it, and while she was here in the DC area, recently, she was good enough to bring it with her!
Janet, thank you
so
much for the donation! This selfless act of generosity will save the lives of countless Americans in the war on terror... or something.
So, here we go:
Today I'll be using my favorite weapon, the
Remington Model 870
, 12 gauge shotgun.
As you will see below, using a shotgun can be very efficient when you want to punch serious holes in someone. Just as a reminder, the 12 gauge buckshot round has nine, .32 caliber, copper jacketed, lead pellets inside of each round... at 25 yards, buckshot can be effective against a man sized target, but is at it's devastating best when used close up. Imagine shooting someone nine times... at once! Today, we will be shooting at a distance of seven yards.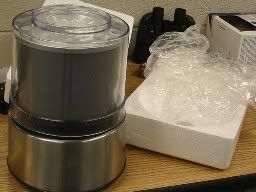 This is our ice cream maker, fully assembled. Nice, yes? Well, it won't be for very much longer.
I wonder what sorts of ice cream I could have come up with? Probably nothing particularly good, as I have never really been into making desserts
(well, with the exception of Applesauce, but you already know that)
.
Ahem.
This is our ice cream maker after one shot.
As you can see, the major parts are still relatively whole. The fluid that you see on the floor is the refrigerant, which was contained in the upper bowl. It began to ooze immediately... it got much, much worse!
This is our ice cream maker after four rounds. The motor is completely wrecked, as is it's casing. The coolant (
as well as lots and lots of other small pieces
), is/are all over the place!
(and was a REAL joy to clean up.... oh, the things I do for my students!)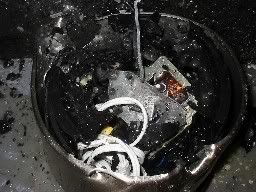 Yes, my friends, this ice cream maker is well and truly destroyed for all time, but I suspect you don't need me to tell you that.
Are there any questions? Yes, you in the back!,
"Professor Gunfighter?, what did we learn today, that will make us better at our jobs?"
I'm glad you asked! Today's demonstration is another example of the effectiveness of a particular sort of ammunition. The term
"buckshot"
, as you will recall, is probably the most appropriately named item in the entire lexicon of firearms! Buckshot was designed, quite simply, to kill a male deer, or "buck". It was evident from the outset that if nine (or more) pellets would bring down a large game animal, it would certainly bring down a full-sized man.
Consider, if you will, the ice cream maker, it
is
was made out of aluminum, steel, plastic, and other ceramic and metal parts.... do you think that any part of your body would be harder to penetrate (with the
POSSIBLE
exception of some parts of your skull) than these things?
There is no substitute for the shotgun in the tactical employment of firearms. While rifles are fine and very effective, nothing beats a blast of buckshot at close range. The physical and psychological trauma of being wounded massively by a shotgun round makes the tactical shotgun a one-shot fight-stopper*
Buckshot... There. Is. No. Substitute!
* Please note that there is NEVER any guarantee that a motivated or intoxicated suspect will stop after being shot one, but a 12 gauge shotgun blast to the chest is more likely to have that effect than any other weapon in most police arsenals.
GF