...misty water colored ros'riiiies, of the way we...
Ahem.
Recently Terri asked if I had finished the rosary that I had briefly spoken about a few weeks ago.
I have. As a matter of fact,
all
of these are new since last we talked about this subject.
Here you are.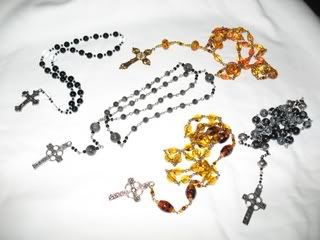 Please note that all of these rosaries are of the Episcopalian/Anglican sort. If any of you are adherents to the Roman church, I'd be happy to make a set for you, for a nominal, very reasonable fee.
GF